Make Your Oompah 2018 Booking ASAP
So why not phone and enquire NOW!
Call the band on: 01283 760348
or: 07968 548201
or email: karl@oompah.net
with your proposed date and anticipated venue - for instant Fun and Frolics!
Karl's Bavarian Brass are on the social network site Facebook
A Testimonial from Mary Stevens Hospice
Bavarian Oompah Night is a Blast!
Sellout success for Karl's Bavarian Brass!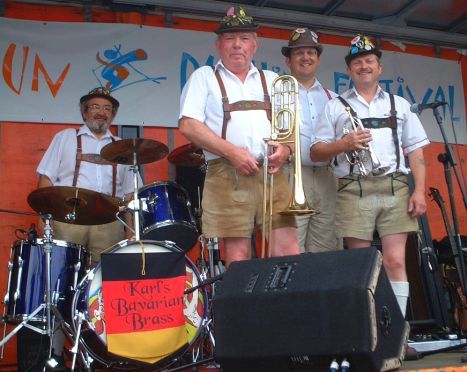 Oompah Success, on Friday 15th February The Mary Stevens Hospice held its first Bavarian evening at Amblecote British Legion, where a crowd of supporters about 150 strong, were split into two teams and proceeded to raised the roof. It was a great success, with much frivolity and dancing occurring throughout the evening.



Karl's Bavarian Brass were fantastic, a huge crowd pleaser; nobody got away with simply sitting down!! A big thank you to every one who supported the event it netted over 1,000 pounds for the hospice.



Hospice fundraiser Claire Holmes said "If you have never experienced a Bavarian Oompah night, you have missed a trick, especially with the quality of these lads, they really got everyone involved and singing along. Hats off to them!"

Competition for places on the run up to the event was fierce, and inevitably some were dissapointed that tickets had sold out. Therefore due to popular request, we are now planning to invite the band back again for another Bavarian evening next year at a larger venue so keep your eyes open for further information!!
VE HAV VAY'S OF MAKING YOU HAPPY