The Bands Line-up 2023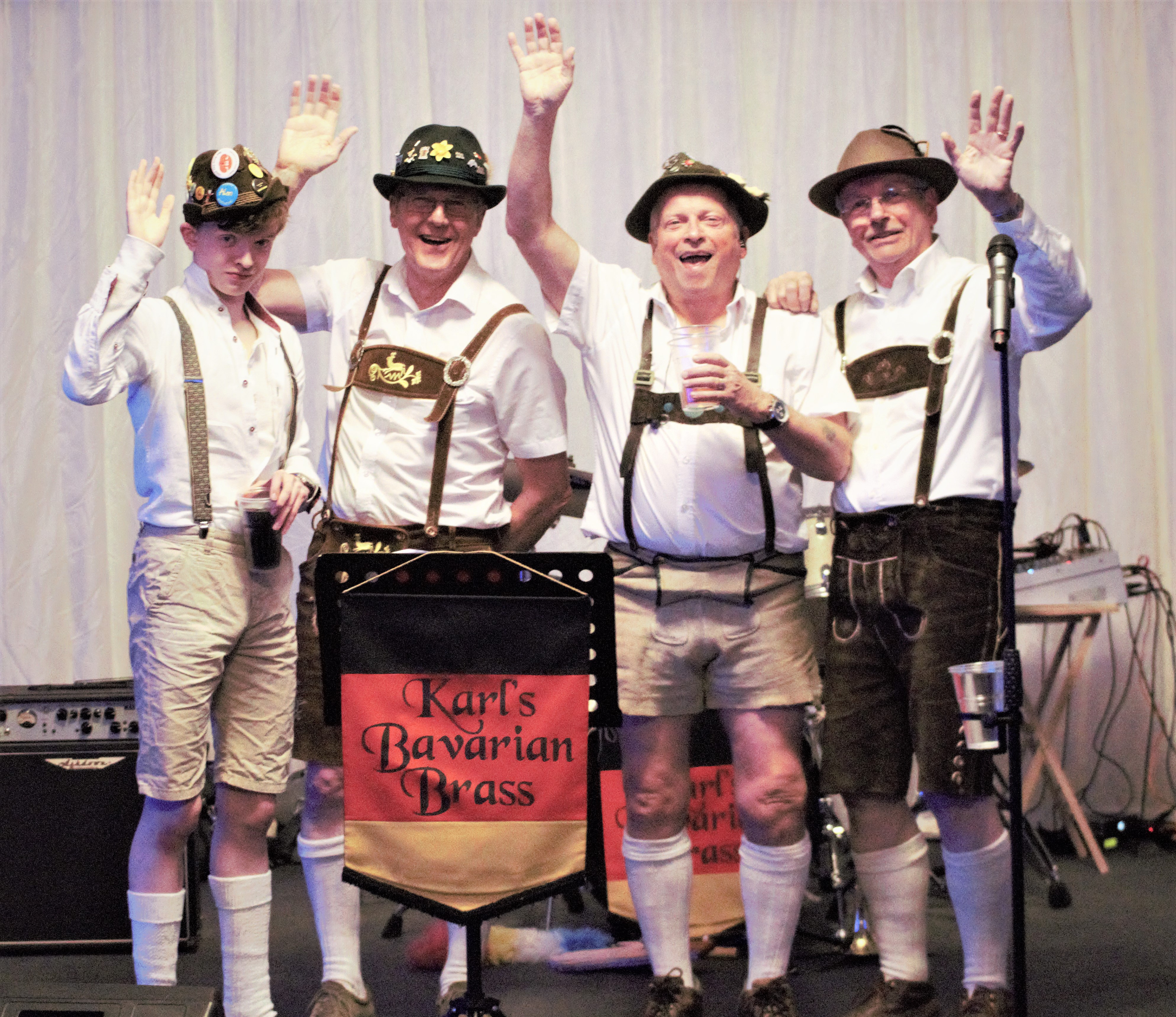 VE HAV VAY'S OF MAKING YOU HAPPY
Karl's Bavarian Brass Founder members.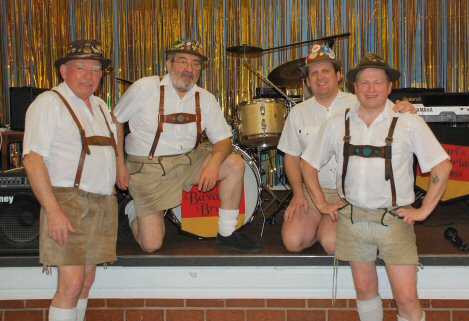 VE HAV VAY'S OF MAKING YOU HAPPY
)
Bryan: It is with great sadness that on 8th of June 2023 Bryan Weston left us for the big oompah gig in the sky, Bryan was a joint founder of Karl's Bavarian Brass. He was a brilliant wit, a fantastic entertainer and a great musician. After working with Alan for many years they founded KBB in 1995. We will miss him and he will never be forgotten.
.
Karl's Bavarian Brass are always a four piece band! The band evolves, the fun never stops. :-}
Alan, joint founder of Karl's Bavarian Brass with Bryan Weston and Carl Astley. Alan fronts the band. He plays trumpet, flugelhorn and more, his "Music Man" gets them all on the floor................................more
Louis Young in looks, but looks are deceptive. Louis is an accomplished singer, musician and actor. Playing a lead part in Lichfield Garrick's Peter Pan in 2010, "Killer Queen" in We Will Rock You and "Javert" in Les Miserables. :-)
Phil Having Herr Schmidt on percussion is such thrill, drumming is the game and his real name is Phil. Not only an accomplished drummer, also singer and long established actor.
Doug Karl's Bavarian Brass, are thrilled to have Doug polishing the keys "Och Aye the noo". When he isn't rebuilding pianos and keyboards, he plays them!
Bryan was there with his trombone and banjo, he wound up the crowd and you would not want to let go....more
Carl Astley, joint founder of Karl's Bavarian Brass was at the back on his drums, he looked so sad, but during the show he was quite a lad...................more
Karl's Bavarian Brass, would like to thank "John" for his years of service
Maire on accordion the first lady of the band.............more
We all loved Ron on keyboards he and Linda Oompah'd with style.more
Line-up with Ron.......
Karl's Bavarian Brass are a 4 piece band..........
photo with Ron
A massive thank you to Richard on keyboards, especially your tribute to "Jaws" :-) .
Please feel free to download photos for your advertising literature.
Karl's Bavarian Oompah Nights Are A Blast!!!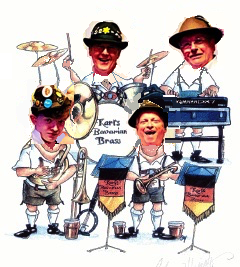 VE HAV VAY'S OF MAKING YOU HAPPY KBB2023